Anyone walking through the Student Residence on the evenings of 25 and 28 October 2010 was sure to hear the shrieks and screams of frightened haunted house goers and Halloween spook seekers. On those two days, just before the Halloween holiday, the Residents' Associations (RAs) of Halls 1, 2, 3, 5, 6 and 9 organised and hosted their annual haunted houses for all student residents.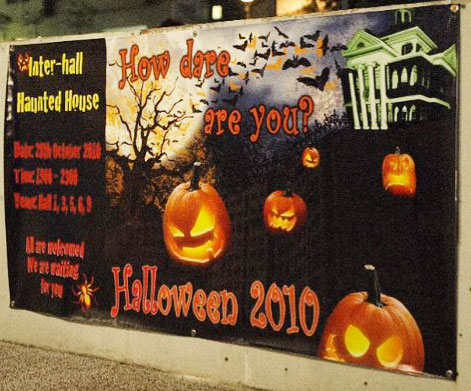 Hall 2 held its yearly haunted house on the 25th, while the other 5 halls held theirs on the 28th. All of the haunted houses were located on the ground floor of their respective halls and featured super spooky themes, ranging from zombies to ghosts to traditional Chinese shrines and graveyards. Hall 9's display even featured an eerie murder mystery that guests had to solve as they made their way through the haunted house. "Ours is definitely the scariest," said the Hall 9 Residence Master, Ms Alisa Kwan.

But Hall 9 certainly wasn't alone in shocking and scaring its guests. "I loved it! It was a little funny and quite scary," said Patricia Bernasconi (Hall 7) after making her way through the Hall 6 haunted house. Adel Wong and Emily Yang (both from Hall 3) agreed, "It was unbelievable and very professional!"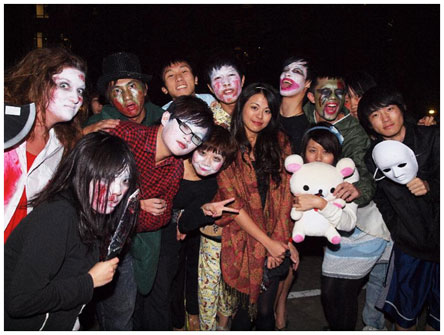 Sarah Cham (Hall 6) and Annie Lai (Hall 3) managed to visit all 6 haunted houses on the 28th. "The atmosphere is great. They're all quite scary," they said, after emerging from Hall 3's display, giggling and out of breath.
These haunted houses are an annual tradition for most halls' RAs. "It's a fun custom that brings the whole student residence together," said Oliver Yu, a member of Hall 3's RA, from behind a gory mask oozing with artificial blood. "The students work so hard on this event," said Ms Alisa Kwan. "[Hall 9's] RA didn't buy one thing! They made everything by hand."
The squeals and screams that echoed through the Student Residence on the two nights of the 25th and 28th surely attest to the success of all of the Residents' Associations' hard work and meticulous preparation.