To make the Student Residence an ideal place for students, the Residence Masters (RMs), Residence Tutors (RTs) and Student Residence Office (SRO) are not enough on their own. Luckily, we also have the Residents' Associations (RAs), who are dedicated to the halls and willing to devote time and effort to serve our residents.
The RAs, cooperating closely with RMs and RTs to organise various activities, bring enjoyment and affection to hall residents. They know your needs because they are also your fellow students living together with you, but they voice opinions for you, as they are your representatives and eager to express opinions. They attend high table dinners like you but are also responsible for the organisation work. They are student residents like you and want to do things for a better residence life.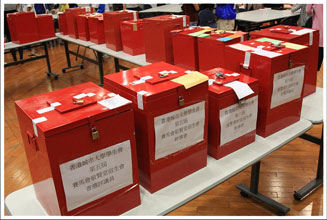 Hugo Liu is the President of the RA in Hall 5. He has gained invaluable experience and friendship from his RA experience. "I felt like doing something for Hall 5 and for my U-life, so I decided to run for election and formed my cabinet with those I met in the hall orientation and the RA recruitment meeting." He felt a sense of success when he concluded his year of service in the RA. "It's so nice to work with my comrades. I also had special experiences like being interviewed by TVB about the student residence bedspaces. I held the first Poon Choi Dinner in Hall 5. And I got a thank-you letter from a resident for our RA work, because we enhanced the ambience and made a difference for her."
In the same RA of Hall 5, there is Nathan Guo, a mainland student. He was a foundation year student last year. He thinks he benefited greatly from interacting with other members. "My Cantonese has improved, as I talk frequently with my RA work partners and other residents." Many may think mainland students focus mainly on learning instead of things like student organisations, but this is not Nathan's case. "To be involved in RA work is also a kind of learning. In preparing for an event, I had to go everywhere to look for banner companies, stationery shops, etc. It has turned out that I know Hong Kong far better now. "
Serving as an ExCo member of an RA is a year-long commitment and a big decision. The ones who have taken action to run in an election have already thought thoroughly about their visions and missions and are prepared for the demanding duties. So do show your support for them by voting at the coming RA election, which will be held on 20-21 October 2010 at Multi-Function Hall A.