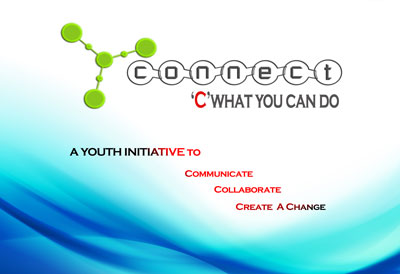 "If you want to lift yourself up, lift someone else up, because there are many people out there in the world that need you." Attending sessions of the City-Youth Empowerment Project last year made me realise the growing need for me to contribute to society. I had always been engaged in volunteer activity since my secondary school days but I wished to do something on a grander scale to make a bigger difference. It was this summer that I decided to work with my close friend Ms. Dimple Shetty to start a Youth Initiative called "CONNECT- C What You Can Do" in India.
India has a lot of NGOs that work for people struggling with problems like illiteracy, single motherhood, orphanhood, etc. We came up with an idea to help NGOs that needed aid. Eventually, we decided to call this Youth Initiative CONNECT, because it would aim at providing non-monetary aid to NGOs by bridging them with institutions like schools, colleges and corporates. We are an intermediary that aims at getting youth involved and making it "Youth Social Responsibility." In my two-month summer break, we successfully managed to put up three major projects - CONNECT Teaches (youth to teach underprivileged kids), CONNECT Ignites (connect schools with NGOs to provide them with books and stationery) and CONNECT Collects (raise funds via newspaper collection drives).
They say 'a journey of a thousand miles begins with one step in the right direction!' We decided to embark on this learning journey in our dream so as to make it large at our small level. We realised that there is no harm in thinking big because you never know - someday it might be reality! What started off as mere discussion, has now reached a point where more than ninety people are involved. Think big, think different, is what I learnt.
Small ideas, big dreams, simple thoughts and dedicated friends who believe in the "one-kind-deed-a-day", are all that have made CONNECT possible. What could be better than having the company of your closest friends and growing with them to help others in this learning journey called life?