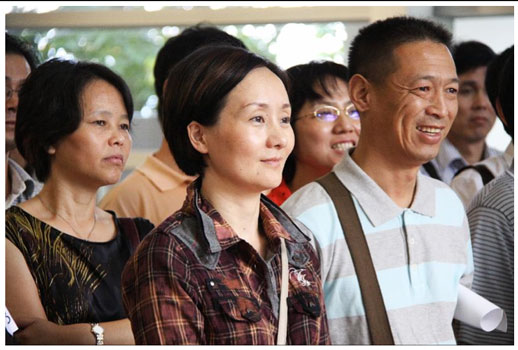 On the afternoon of 26 August 2010, a group of special visitors were hosted in Multi-functional Hall B of the Student Residence. They were neither students nor staff, but they were concerned about everything here as much as any resident or member of staff is. They were the parents of new Foundation Year mainland students, to whom the happiness of their children is always their priority.
This year a tailor-made series of pre-arrival and post-arrival orientation sessions for parents was organised by the University. In late July, the Mainland and External Affairs Office held pre-arrival orientations in Beijing, Shanghai, Guangzhou and Chongqing. Ms Rebecca Chan, the Director of the Student Residence Office (SRO), was invited to introduce residential life to the students and their parents and she also distributed the newly published Parents' Guide.
After the students' arrival at CityU and on 26 August 2010, an Orientation for Parents of Foundation Year Students was organised, at which the Tea Reception for Parents was hosted by SRO in the Student Residence. As SRO attached great importance to the event, SRO staff, Residence Masters (RMs) and senior mainland students also attended the reception and greeted the parents. At the start of the Reception, Professor Paul Lam, the Vice-President (Student Affairs), gave a welcoming speech. The parents seized every opportunity to communicate with Professor Lam and other staff. Among all their concerns, arrangements for on-campus living after two years came first, followed by the selection of study major, study exchange and part-time jobs etc. Professor Lam and senior students explained to the parents mainly issues related to student housing and study, while RMs and SRO staff encouraged the new students to get involved in hall life and learn how to connect with others in a culturally-diverse community. One essential issue that all of them emphasised was self-discipline. "They have to be responsible to and have initiative in their study. Lots of spare time will be left to them, so proper time management is essential." said Professor Lam.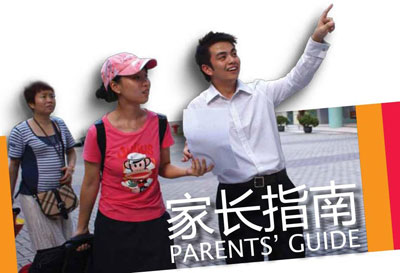 As for the general impression of the CityU Student Residence, most parents thought it was safe and convenient. "The security guards are so responsible that they can memorise all residents in their hall, which makes residential life safer than that in the mainland. Also, the pantry facilities facilitate the students' life", said a couple of parents from Shanghai. "Thanks to the residence, we can definitely be without anxiety about our children's living here and set our minds at rest."
We always say that our Student Residence is the second home for mainland students, as we are concerned about our residents as much as their parents are. To help new residents adjust to the new home, SRO strives to promote communication with parents. That is why the orientation and reception programmes for parents were held. We also invite parents to provide SRO with their email addresses, so that they can be kept posted through ResLink of the latest news of the Student Residence. Though we are in different places, the belief shared by the parents and us is that nothing is more important than a happy and fruitful life for our children to enjoy.