For a long time, longer than I can remember, festivals have been simplified into the food that symbolizes them. In China, for example, Mid-autumn Festival has become the ¡§Mooncake Festival¡¨ and the Dragon Boat Festival has been redefined as the ¡§Rice Dumpling Festival¡¨.
Meanwhile, in the Western world, at least in the U.S.A., similar things take place: pumpkins are vital for Halloween, and so are turkeys for Thanksgiving¡K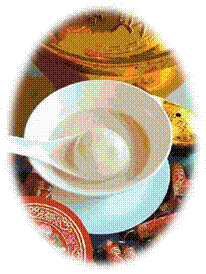 Since I am staying away from home, and spent my exchange study in the U.S.A. last semester, I have not seen my family members for almost half a year. I enjoyed almost every moment in the U.S.A., but after all the excitement has gone, I sometimes miss my family, truly.
That is perhaps the original reason why there is the Chinese New Year, or Spring Festival: Chinese people value family so much. Youngsters and breadwinners knock around all through the year away from their hometown. But New Year provides the time and reason for returning home and being reunited with family members.
Once a year, the time for reunion approaches again. I will hold my ticket, get on my way, and throw myself into the arms of my dear family
members, whether it¡¦s accompanied by tears of joy
or smiles of bitterness.