New Book Announcement: Research Handbook on Asian Financial Law (Edward Elgar Publishing, 2020)
13.02.2020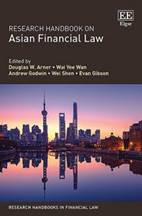 The Centre for Chinese and Comparative Law (RCCL) is pleased to announce the publication of Research Handbook on Asian Financial Law, edited by Professor Wan Wai Yee, with Professor Douglas W. Arner, Dr. Andrew Godwin, Professor Wei Shen, and Dr. Evan Gibson. This book, published by Edward Elgar Publishing, is volume of the publisher's Research Handbooks in Financial Law Series.
The book was conceived as a reference point for, and to provide a jurisdictional and regional perspective of, financial law and regulation in Asia. By bringing together more than 30 scholars working in diverse sub-fields on Asian financial law and regulation, this comprehensive Research Handbook provides analysis on the different models of financial regulation, the moves towards regional integration, the various trends and development (including the impact of fintech and other innovative technology) and the opportunities and challenges posed by regulation. Several in-depth case studies on Asian jurisdictions are also included.
For the details, please visit the publisher's website: https://www.e-elgar.com/shop/research-handbook-on-asian-financial-law
Congratulations to Professor Wan and her other co-editors.