Prof. LIN, Feng

Associate Dean & Professor, School of Law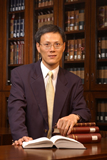 Research Interests
Comparative Constitutional and Administrative Law
Comparative Environmental Law
Comparative Labour (Employment) Law
Education
LLB (Fudan); LLM (Wellington); PhD (Peking)
Professional Qualifications/Membership
Barrister (Middle Temple, England and Wales, Hong Kong); Member of Bar Council of Hong Kong Bar Association
Professional and Community Services
Member of the Technical Committee of the HKQAA as an expert on Chinese employment and social security law, 1999 onwards.
Member of Special Committee on Constitutional Law and Human Rights, Bar Council of Hong Kong Bar Association, 2007 to now.
Member, Telecommunications (Competition Provisions) Appeal Board, 1 November 2014 – now.
Member, Law Reform Commission, February 2013 – now.
Director, Hong Kong Foundation for Legal Studies Ltd., Director since its founding.
Director, Hong Kong Heal Foundation Ltd., Director since its founding.
Editorship
Co-Editor, Asia Pacific Law Review
Publications (Since 2014)
Journal Articles
林峰,"公民權利與政治權利國際公約與香港行政長官選舉",《清華法學》, 2015年第5期, 第99-114頁
林峰,"論雙非孕婦、奶粉限購及一簽多行問題的處理",《紫荊論壇》,2015年5月-6月第21期,第88-93頁。
Pinky Choy & Lin Feng, "Public Litigation in Hong Kong" (2015) 114 China Law 83-90.
林峰,"2017 普選行政長官的法律挑戰及未來",《紫荊論壇》,2014年7月-8月,第38-45頁。
Book Chapters
林峰、王書成,"基本法第24條與香港永久性居民的法理定位",載於陳弘毅、鄒平學主編,《香港基本法面面觀 》(香港:三聯書店(香港)有限公司,2015)。
林峰,"《香港特別行政區基本法》的落實狀況(2014)",載於李林、田禾主編,《中國法治發展報告 (法治藍皮書)(2015)》(北京市:社會科學文獻出版社,2015)。
Feng Lin, "The Administrative Litigation (Judicial Review) System in Hong Kong and its Future", in Yuwen Li (ed.), Administrative Litigation Systems in Greater China and Europe (Ashgate, 2014), pp. 41-72.
林峰,"2013年香港基本法實施情況)",載於李林、田禾主編,《中國法治發展報告 (法治藍皮書)(2014)》(北京市:社會科學文獻出版社,2014)。
Research Grants (Since 2014)
"Hunting, Fishing and Gathering Law and Policy for Minority Peoples in China's Autonomous Areas—An Empirical and Comparative Study", General Research Fund (GRF), Research Grant Committee (RGC), Hong Kong Government, Amount: HK$607,339, from 1 Jul 2014 (on-going), Lin Feng (PI).
"A Study on Election Mechanism for the Chief Executive in 2017", grant from HKSAR Central Policy Unit, Amount:  HK$600,000, 1 March 2013-30 Nov 2014), Lin Feng (PI).