Application Procedures (PhD and MPhil)
Hong Kong PhD Fellowship Scheme
HK PhD Fellowship is a prestigious award established by the Research Grants Council (RGC) of the HKSAR Government, aims at attracting the best and brightest students in the world to pursue their research degree programs in Hong Kong's institutions. Students graduated or graduating with bachelor or master degree with good academic records and experience are welcome to apply.
The Fellowship awardee will receive:
a monthly stipend of HK$25,100 (~US$3,218)
conference and research related travel allowance of HK$12,600 (~US$1,615) per year
"CYCSGS Entrance Scholarships" (around HK$77,496, ~US $9,935) which covers student's tuition and on-campus hostel accommodation fees in the 1st year of research studies.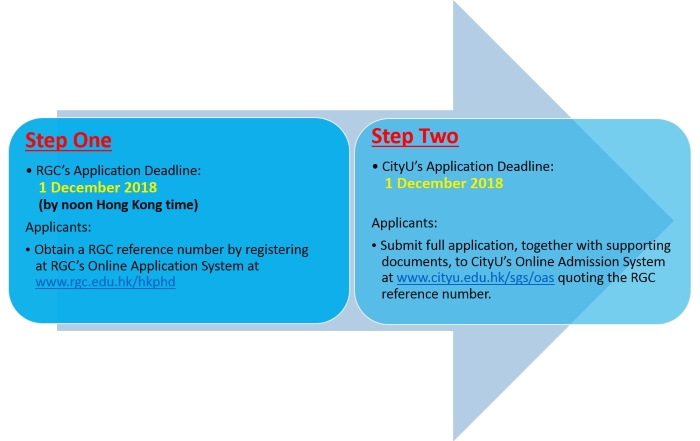 IMPORTANT: Candidates should submit initial application as early as possible to ensure that they have sufficient time to submit application to CityU.
Selection Criteria
While the academic excellence is of prime consideration, the Review Panels will take into account, but not limit to, the following yardsticks for the selection of candidates:
Academic excellence;
Research ability and potential;
Cultural diversity;
Communication, and interpersonal skills;
Leadership abilities; and
Institutional support.
Normal Round Application
For application procedures and details, please refer to www.sgs.cityu.edu.hk/prospective/apply/procedures.
Last modified on 1 September, 2018