Library News
(updated on 20 June 2018)

---
Talk @CityU Library – Elsevier Talk on Publishing in the XXI Century
The Library is pleased to announce the upcoming talk given by Elsevier – Publishing in the XXI Century: Publishing & Sharing your Research, Peer Review Innovations & Publishing Ethics
Researchers advance science by doing experiments, performing measurements and calculations, and interpreting the results. The next essential step is to write down the results and conclusions in a scientific paper and to get published in an academic journal, which however, requires a different set of skills.
Elsevier is an academic publisher that annually publishes 430,000 articles in 2,500 journals. Ms. Marlene Silva, Associate Publisher & Ms. Marina Soares E Silva, Publisher from Elsevier will give an interactive session to CityU staff and students on Academic Publishing. The talk will cover:
Tips on how to choose the best journal for you.
What are the editors looking for in an article and which tools can be used to promote your research?
What are the latest trends in Peer Review and Publishing Ethics?
What is Open Access publishing?
Speakers:
Ms. Marlene Silva - Associate Publisher (Physical Sciences)
Ms. Marina Soares E Silva - Publisher (Physical Sciences)
Date and Time:
28 June 2018 (Thursday), 11:00 am - 12:00 pm
Venue:
User Education Room, Library
Medium of Instruction:
English
This talk is aimed at new authors, but also at more experienced authors who want to keep up with current publishing trends. To reserve a seat, please register online.
For enquiries, please call 3442-8395, email lbinf@cityu.edu.hk or visit our Law & Reference Help Desk. Come and share your thoughts and questions!
(20 Jun 2018)
Library Newsletter May 2018 Issue Available Now!

We would like to extend our heartfelt thanks to all of you who have participated in the Library User Survey 2018 and are delighted to share the results.
Find out how to distinguish yourself from the others in the academia. In this article, we will explain the importance of Author Identity Management.
Also, we would like to keep you up-to-date with the Library's collection. Check out our Collection Highlights.
We continue to bring you the updates about CREATE!- the MakerSpace and the LibCompass- the mobile apps that conveniently guide you through the library.
For this and much more, visit the Library Newsletter at
http://www.cityu.edu.hk/lib/about/newsletter/issue_201805.htm
(30 May 2018)
Exhibition: World Veterinary Day

In collaboration with the College of Veterinary Medicine and Life Sciences (CVM) and the Agriculture, Fisheries and Conservation Department (AFCD), the Run Run Shaw Library is delighted to present the exhibition on World Veterinary Day 2018.
The World Veterinary Day was first created in Year 2000 by the World Veterinary Association to promote the work of veterinarians around the globe. This year, the World Veterinary Day will be observed on 28 April.
In this exhibition, you will find out about the importance of the veterinary profession, knowledge and practical tips for pet owners and information on various aspects of animal care.
If you are a pet owner or an animal lover, don't miss out the exhibition in the Library. Join us in celebration of the World Veterinary Day!
Exhibition period: 24 April – 10 May 2018
Venue: Wofoo Foundation Gallery, Run Run Shaw Library
(24 Apr 2018)
Outstanding Academic Papers by Students (OAPS) Certificate Awarding Ceremony 2018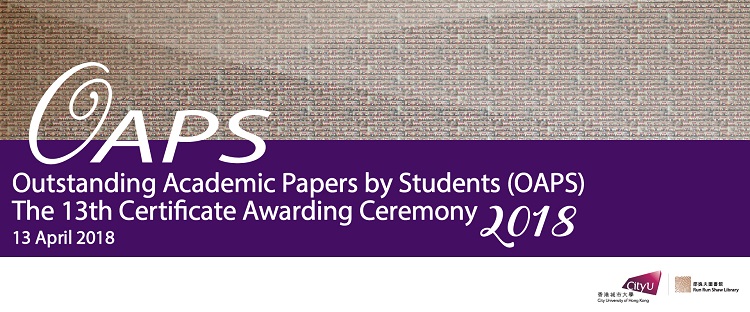 The OAPS is a joint initiative between the Library and the academic departments to collect students' quality papers, preserve them in digital format and share them within the University and beyond so as to provide perpetual access to our students' research output. 2018 marks the thirteenth anniversary of the project. With the dedication and support of the academic departments, the Library has collected 35 best papers nominated by 15 departments. Since 2005, 547 outstanding papers by CityU students have been digitized and are accessible via the Digital CityU Collections (http://www.cityu.edu.hk/lib/digital/index.htm).
Ceremony
We are pleased to have invited the Dean/Head or delegate of the participating Colleges/Schools/Departments to present certificates in the Ceremony.
Details of the Certificate Awarding Ceremony are as follows:
Date: 13 April 2018 (Friday)
Time: 6:00 p.m. - 7:30 p.m.
Venue: User Education Room, Run Run Shaw Library
You are welcome to join this event. Please contact Ms Helen Lee at 3442 5418 or helen_lee.sk@cityu.edu.hk for more information.
(10 Apr 2018)
CREATE! — The MakerSpace

Are you interested in producing a 3D model of your design with 3D printing?
Do you want to digitalize your new creation with 3D scanning?
Using a 3D printer and 3D scanner is actually easier than you thought! And you can learn to use these equipment in the newly open CREATE! — The MakerSpace.
CREATE! is a joint project by the Library and the School of Creative Media. It is established with the purpose to promote communal learning, creativity and innovation to all CityU Students and staff. It is a space for you to explore new technologies including 3D printing, 3D scanning, laser cutting, physical computing and projection mapping.
Don't worry if you are not familiar with the equipment. Our staff will provide the training and support you need!
Come visit CREATE! in the Library's Information Space.
For more details, please visit the Library's website: http://www.cityu.edu.hk/lib/create/
(17 Mar 2018)
SciFinder Scholar Training Session – An Information Skills Workshops @CityU Library
SciFinder Scholar is a research discovery tool by Chemical Abstracts Service (CAS) that allows scientists and researchers to access a wide diversity of research from many scientific disciplines, including biomedical sciences, chemistry, pharmacology, biotechnology and more.
To help you become familiar with this database, the Library has organized the following training session:
| | |
| --- | --- |
| Date: | 9 April 2018 (Monday) |
| Time: | 10:00 am - 11:30 am |
| Venue: | Library User Education Room |
| Instructor: | Ms. Pamela Oon, CAS (Chemical Abstracts Service) Representative (Trainer) |
The training session will cover:
How to build an effective search query
How to refine answer sets
Different techniques for substance searching, including inorganic compounds, organometallics and polymers
How to get related information e.g. spectra, properties and reactions
Best practices for reaction searching
How to prioritize answer sets
Note:
This training session is for authorized users of SciFinder Scholar. A personal SciFinder Scholar account is required for participation in the session. If you do not already have one, please create a personal SciFinder Scholar account before you register for the training session.
The medium of instruction is English. To reserve a seat, please register online.
For enquiries, please call 3442-8395, email lbinf@cityu.edu.hk or visit our Law & Reference Help Desk.
(28 Mar 2018)