Touring Late Imperial China Through the Library's Special Collection
With restrictions on travel, it sounds fantastic to imagine a voyage in late imperial China with Western explorers.
Our treasured exhibits dating back to the early nineteenth century describe the travelers' experiences and reveal the society, customs, character, social habits, costumes, and architecture of China during the Qing Dynasty. These books paint a very vivid portrait of the empire through the eyes of foreigners and document the early global interaction and cultural contact between China and the West. These books provide helpful thoughts and information for understanding China from a comparative perspective.
By showcasing our invaluable special collections, we hope to encourage scholarship in Chinese history by members of the CityU community. So whether you are a teacher integrating primary sources into your class, an academic working on innovative research, or a student thinking about possible topics for an assignment, we want to partner with you and support your work in education, research, and scholarship.
This Exhibition at the Library's Wofoo Foundation Gallery is held to commemorate the generous book donation made by Dr. Joseph Lee Chung-tak [李宗德] and other donors.
Poster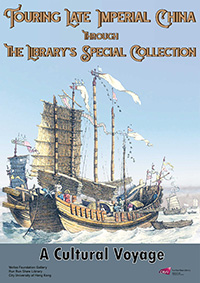 Photo Gallery