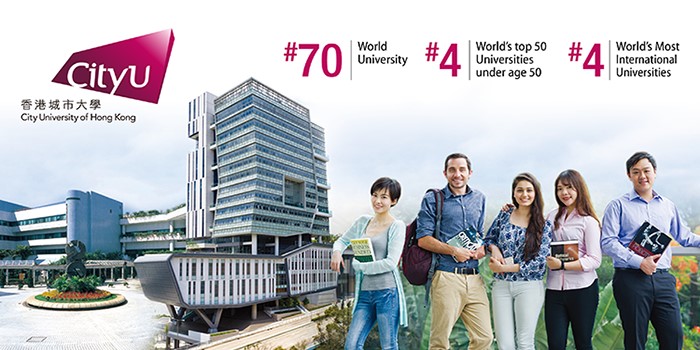 Global Scholar Recruitment Campaign
City University of Hong Kong (CityU) is one of the world's leading universities, known for innovation, creativity and research. We are now seeking exceptional scholars to join us as Assistant Professors/Associate Professors/Professors/Chair Professors (on substantiation-track) in all academic fields with special focuses on One Health, Digital Society, Smart City, Matter, Brain, and related interdisciplinary areas. Research fields of particular interest include, but not limited to:
biomedical science and engineering
veterinary science
computer science and data science
neuroscience and neural engineering
bio-statistics and AI-healthcare
smart/semi-conductor manufacturing
AI/robotics/autonomous systems
aerospace and microelectronics engineering
energy generation and storage
digital business and innovation management
fintech and business analytics
computational social sciences
digital humanities
digital and new media
law and technology
private law
healthy, smart and sustainable cities
Successful candidates should have a demonstrated ability to build a world-class research programme related to CityU's strategic research areas, plus a commitment to education and student mentorship. Candidates must possess a doctorate in their respective field by the time of appointment.
Outstanding faculty joining the University will be considered for nomination of the Global STEM Professorship Scheme sponsored by the Government of the Hong Kong Special Administrative Region, and may be provided with subsidy for their research teams and for setting up laboratories.
Please click here to visit Colleges, Schools and Departments in CityU
City University of Hong Kong is an equal opportunity employer. We are committed to the principle of diversity. Personal data provided by applicants will be used for recruitment and other employment-related purposes.
Worldwide recognition ranking #70 (QS 2024), and #4 among top 50 universities under age 50 (QS 2021); #4 in the World's Most International Universities (THE 2023); #1 in Automation & Control/Electrical & Electronic Engineering/Materials Science & Engineering/Metallurgical Engineering/Nanoscience & Nanotechnology and #2 in Telecommunication Engineering in Hong Kong (GRAS 2023); and #42 Business School in the World and #5 in Asia (UT Dallas 2018 to 2022).