Professor Jonathan ZHU 祝建華
BA (Fudan University), MA (Fudan University), PhD (Indiana University, US)
Chair Professor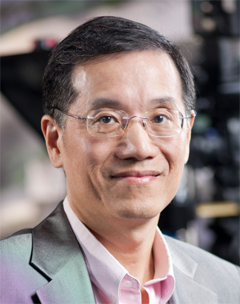 Research Interests
Structure, Diffusion
Use and Effect of New Media
Network Analysis of Online Communications
Web Mining, e-Social Science
Quantitative Research Methodology
Statistical Analysis
Social Computing
Teaching and Research
I teach new media theory (diffusion, use, and impact), quantitative methods (survey, experiment, content analysis, statistical analysis), and new technologies (Internet, multimedia, and database). Most recently, I teach a university general education (GE) course on social network analysis for media, business and technological applications.
My current research projects involve growth of online social networks, sustainability of social media, diffusion and use of social computing, internationalization of communication research, among others.

I coordinate a Web Mining Lab, in which a group of postdoctoral fellows, doctoral students, research assistants, and occasional visitors carry out interdisciplinary projects.
A list of my publications in SCI/SSCI journals, along with citation and collaboration information, is compiled by ResearcherID.com.

A longer list of my publications, along with citation information, is compiled by Google Scholar.
Professional Services
Member of Editorial Board, Communication Research, 2000-present.
Member of Editorial Board, International Journal of Public Opinion Research, 2002-present.
Member of Editorial Advisory Board, Asian Journal of Communication, 2003-present.
Member of Academic Committee, Shenzhen Key Lab for Cloud Computing Technology and Applications, Peking University Shenzhen Graduate School, 2010-12.
Chang Jiang Chair Professor of Communication, Renmin University of China, 2007-10.
Member of Panel of Humanities, Social Science and Business Studies, Research Grants Council, Hong Kong SAR, 2007-09.
President of Chinese Communication Association (USA), 2002-04.