Challenge, Opportunities, and Resilience: New Media and Communication in the Post-Pandemic Era
24 Apr 2023 (Mon)
The COVID-19 pandemic, a "syndemic" that interweaved health with societal crises, has profoundly transformed the field of media and communication. Information technology and social media have created opportunities for people to be well-informed and better connected during the pandemic. However, they have also enabled and amplified the infodemic that challenges the dynamics among various stakeholders. As a timely reflection on the new challenges and opportunities in the media institutions and communication process in the post-pandemic era, the Department of Media and Communication (COM) organized a one-day conference entitled "Challenge, Opportunities, and Resilience: New Media and Communication in the Post-Pandemic Era" on 24 April 2023. This conference is also part of a year-long academic celebration series for the 15th anniversary of COM.

This conference started with a plenary discussion, followed by three panels to address issues on political communication, health communication, misinformation, and the role of technology and culture in communicative actions. Fourteen Ph.D. students presented research projects in the poster session. The conference ended with an inclusive, open discussion about the impacts of new technology on communication and education. Around 50 participants, including oversea guests, faculty, alumni, and Ph.D. students attended the meeting offline.
Professor Yi-Hui Christine Huang, the Acting Dean of the College of Liberal Arts and Social Sciences, and Professor Yu-li Liu, the Head of COM, welcomed the speakers and participants. Next, Dr. Fen Lin, Associate Professor at COM, moderated the plenary session. Professor Peng Hwa Ang from Nanyang Technological University introduced the dangers and ethics in AI with the case of ChatGPT. Chair Professor Yi-Hui Christine Huang focused on Trust and Trust-Related Communication and proposed the trust-centered approach as an emerging paradigm in public relations and strategic communication research. Chair Professor Jonathan Zhu joined the discussion by reviewing the development of computational communication in the Department of Media and Communication in the past 15 years.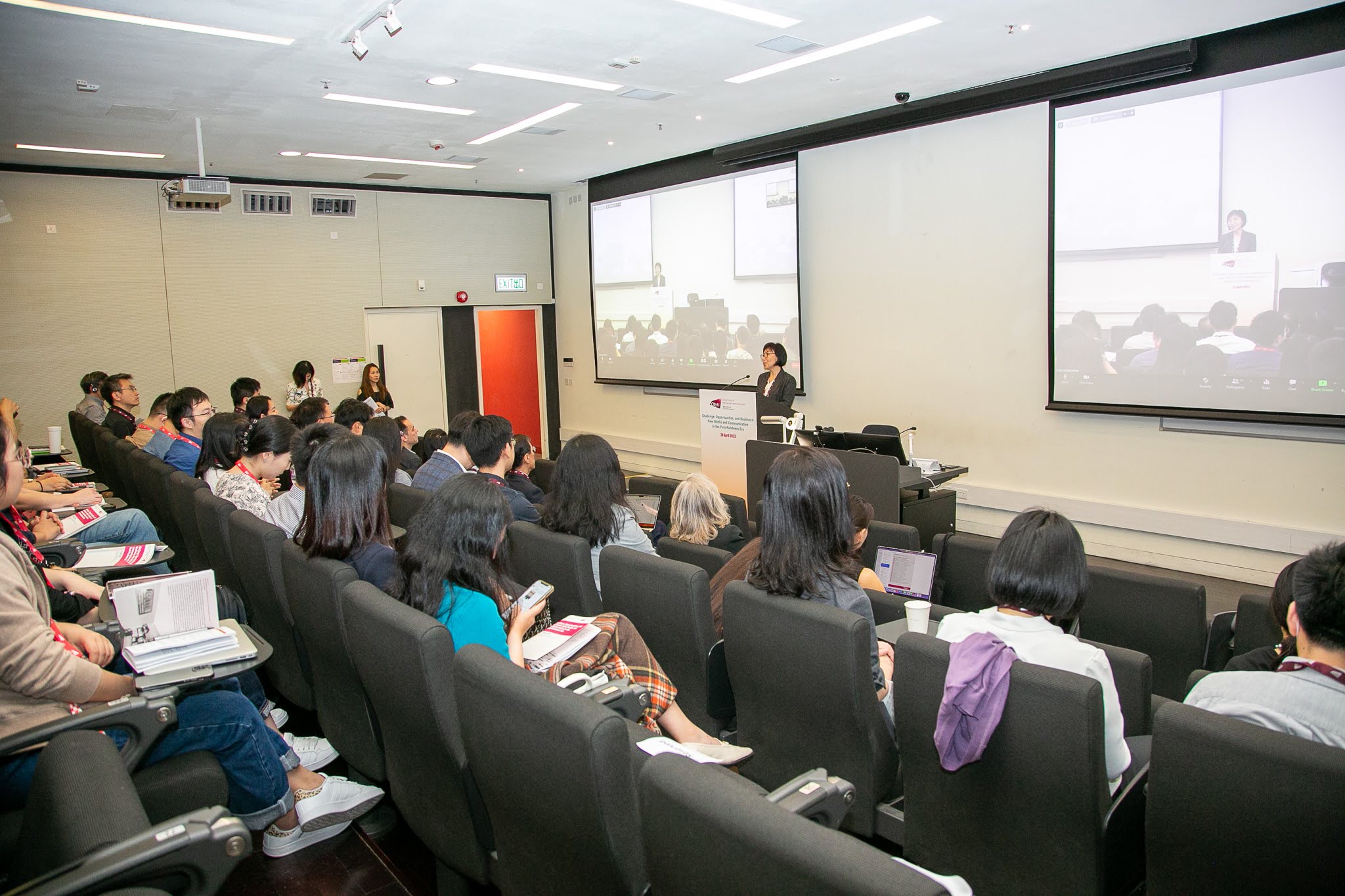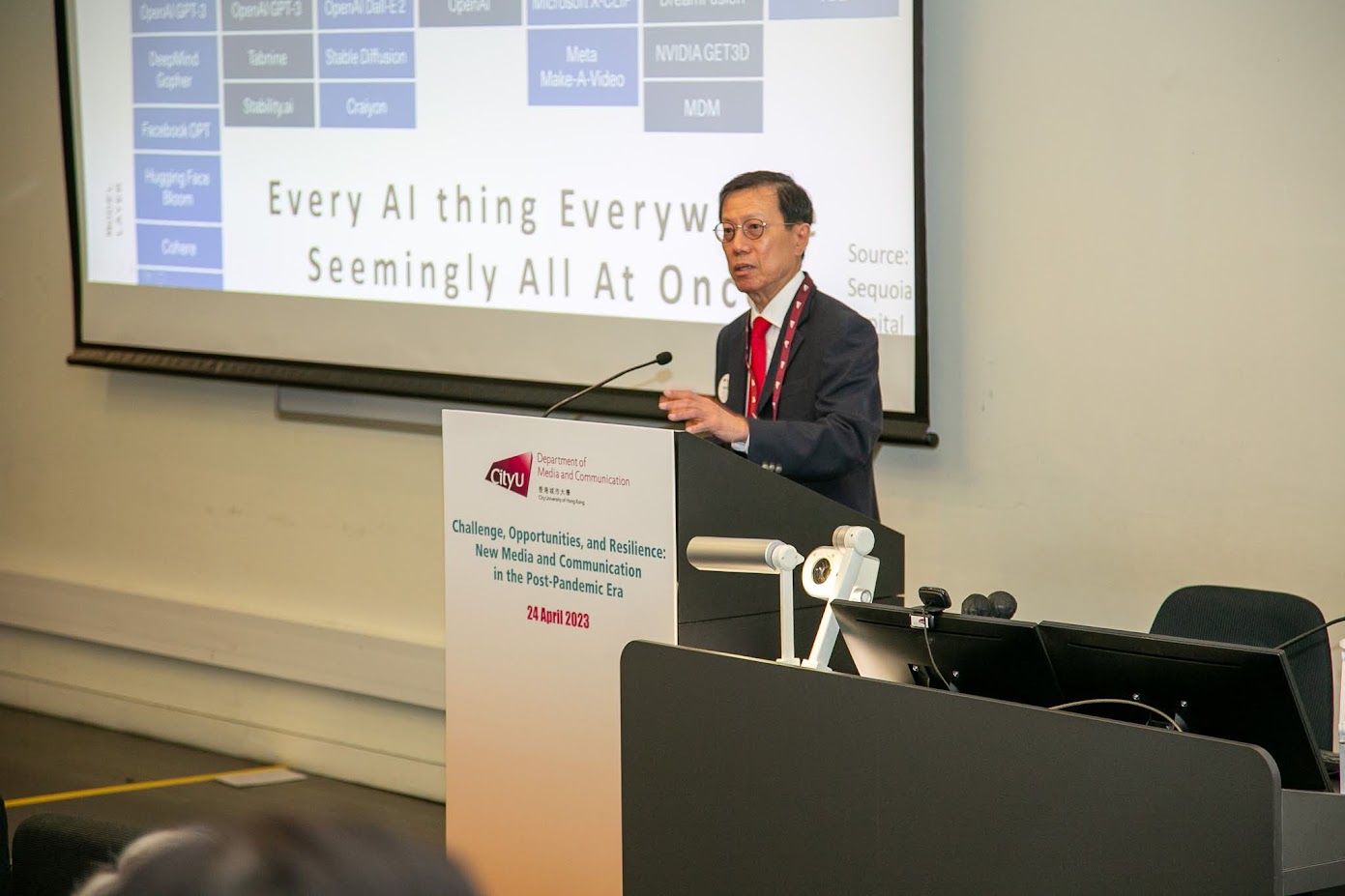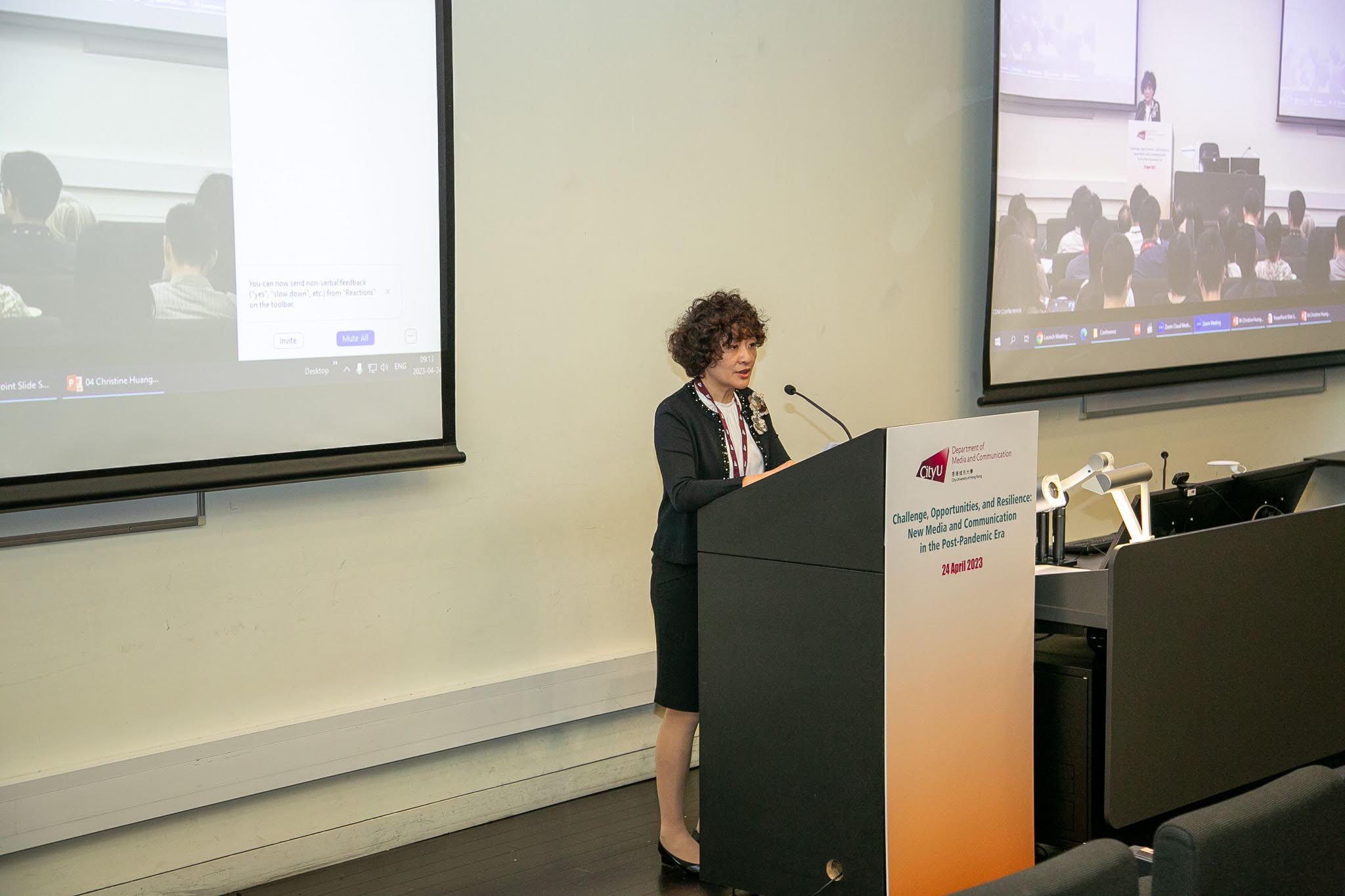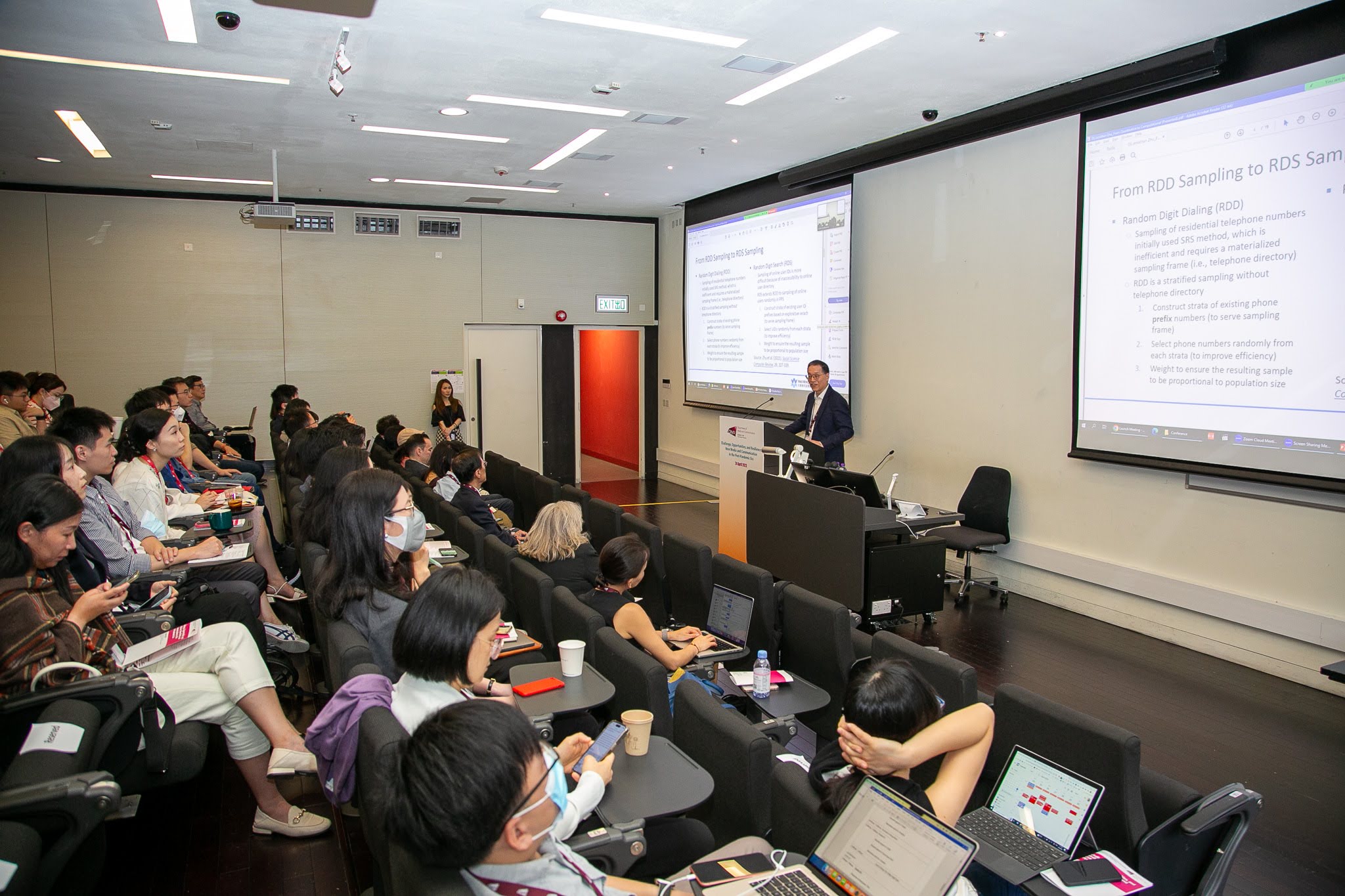 Dr. Marko Skoric, Associate Professor at COM, hosted the first panel discussion on political communication. Dr. Kokil Jaidka, Assistant Professor of the National University of Singapore, delivered her presentation entitled "How do algorithms affect public opinion? Analyzing online public opinion trend with multi-wave studies and offline interventions". Her research aimed to find new ways to measure and interpret public opinion. Dr. Hai Liang from the Chinese University of Hong Kong gave a speech, "Computational studies of social media protests." He detailed how he used computational methods to process the protest movement dataset. Dr. Yi Wu, Assistant Professor of Shenzhen University, and Dr. Chris Shen, Associate Head of COM, shared their recent research: "Does online incivility mobilize or demobilize political participation? Evidence from Hong Kong's anti-ELAB-movement". They argued that, though informational media use is positively associated with political involvement, online incivility exposure has a more substantial effect.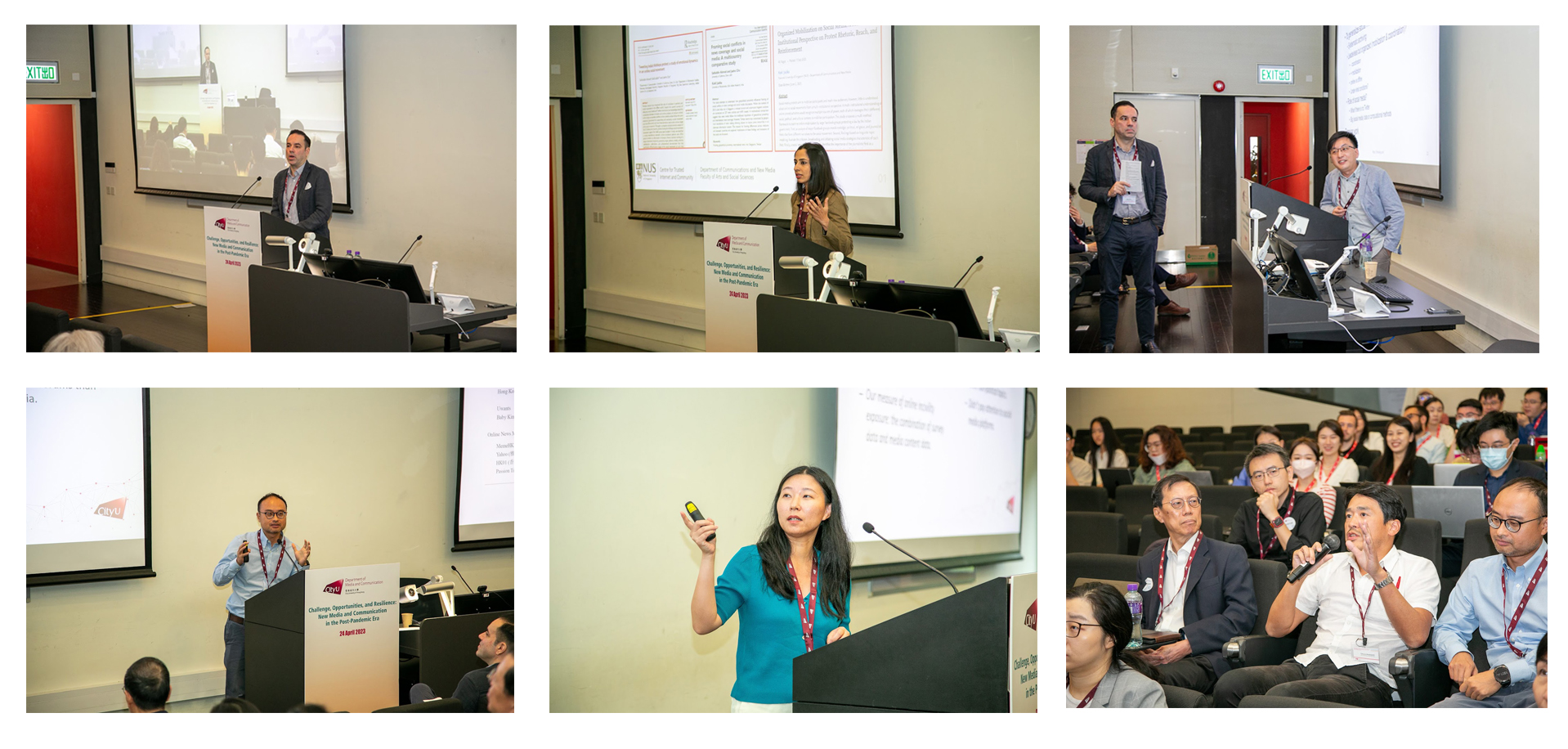 Dr. Guanxiong Huang, Associate Professor at COM, led the first-afternoon session. Professor Cindy Shen from the University of California, Davis, presented her research on visual misinformation, titled "A fake image is worth a thousand lies: Perception, mechanism, and intervention." Her recent research findings show that active intervention significantly increased the intention of using reverse image search tools compared to the passive intervention and the control conditions. Neither active nor passive intervention influenced credibility judgment or misinformation discernment. Dr. Xiaohui Vincent Wang, Assistant Professor at COM, focused on the network structure of misinformation diffusion on social media. His study expanded the theoretical horizon of homophily theory by showing the significance of considering the dual existence of homophily and heterophily. Then, Dr. Yuan Wang, Assistant Professor at COM, delivered a speech entitled "Exploring the Antecedents and Outcomes of Online Racial Discrimination: Empirical Evidence from Ethnic Minorities in Hong Kong." Based on the research finding, Dr. Wang and his team have offered specific suggestions for online media platforms, reporters and editors, ethnic minorities, and the Hong Kong Government. Professor Janet Yang from the State University of New York at Buffalo gave a presentation entitled "Risk Perception and information sharing about public health crises." She noted that individualistic cultural worldview and social dominance orientation shaped risk perception negatively and suggested that health communication needs to be tailored to different audience groups in future research.
The theme of the second-afternoon session was "What Matters: Understanding the Use of Technology in Health Communication," moderated by Dr. Crystal Jiang, Associate Professor at COM. Professor Teri Thompson from the University of Dayton, also the editor of the leading journal Health Communication, shared her experience of publishing academic papers from an editorial perspective. Dr. Fan Hu, from Beijing Normal University -Hong Kong Baptist University United International College, gave a talk entitled "Social Media Influencers and Food-Related Health Implications: A Systematic Review of Content Analysis Studies." The findings indicated that existing studies focused more on the prevalence of unhealthy food and the well-being of children and adolescents. Dr. Sai Wang from Hong Kong Baptist University was more concerned about the Power Dynamics of Human-IoT Interaction in Health Communication. She showed how IoT agents' source and technological factors affect the persuasiveness of health messages. Dr. Ji Won Kim, Assistant Professor at COM, gave a speech, "Examining the impact of social media information overload on health information behaviors." This study extended the S-O-R model to provide a nuanced understanding of what drives people to avoid information and share misinformation.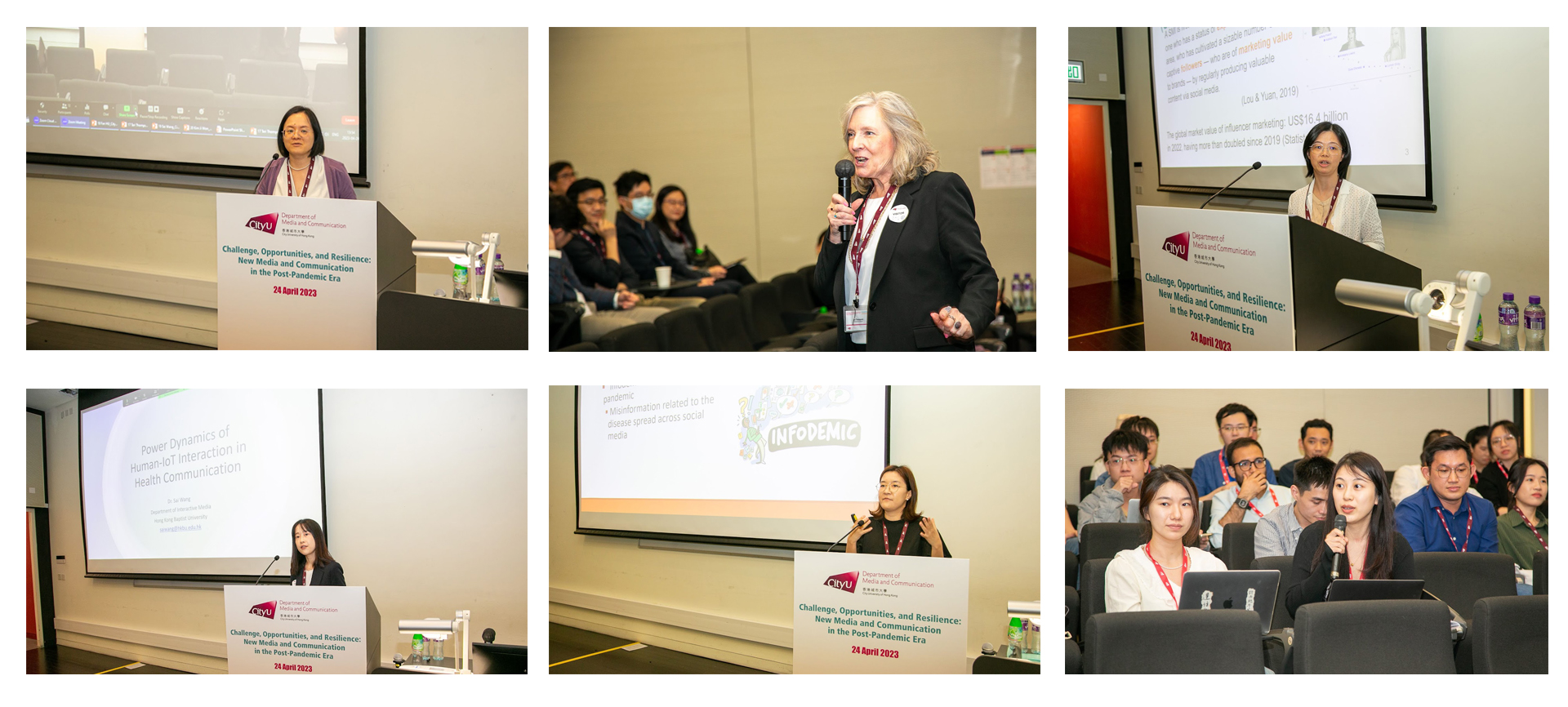 The conference was brought to a perfect end with the heated intellectual exchanges among the speakers and audience on chatGPT and its potential impacts on the communication process and education. Dr. Fen Lin hosted an open discussion, and Dr. Xiaofan Liu, Professor Fiona Nah, Dr. Nancy Dai, and Dr. Ji Won Kim led the intellectual conversation. Echoing the discussion, Dr. Chris Shen offered a GPT-aided remark to close the conference. COM will continue to nurture cross-disciplinary and cross-institutional collaborations to reflect on new media and communications in the post-pandemic era.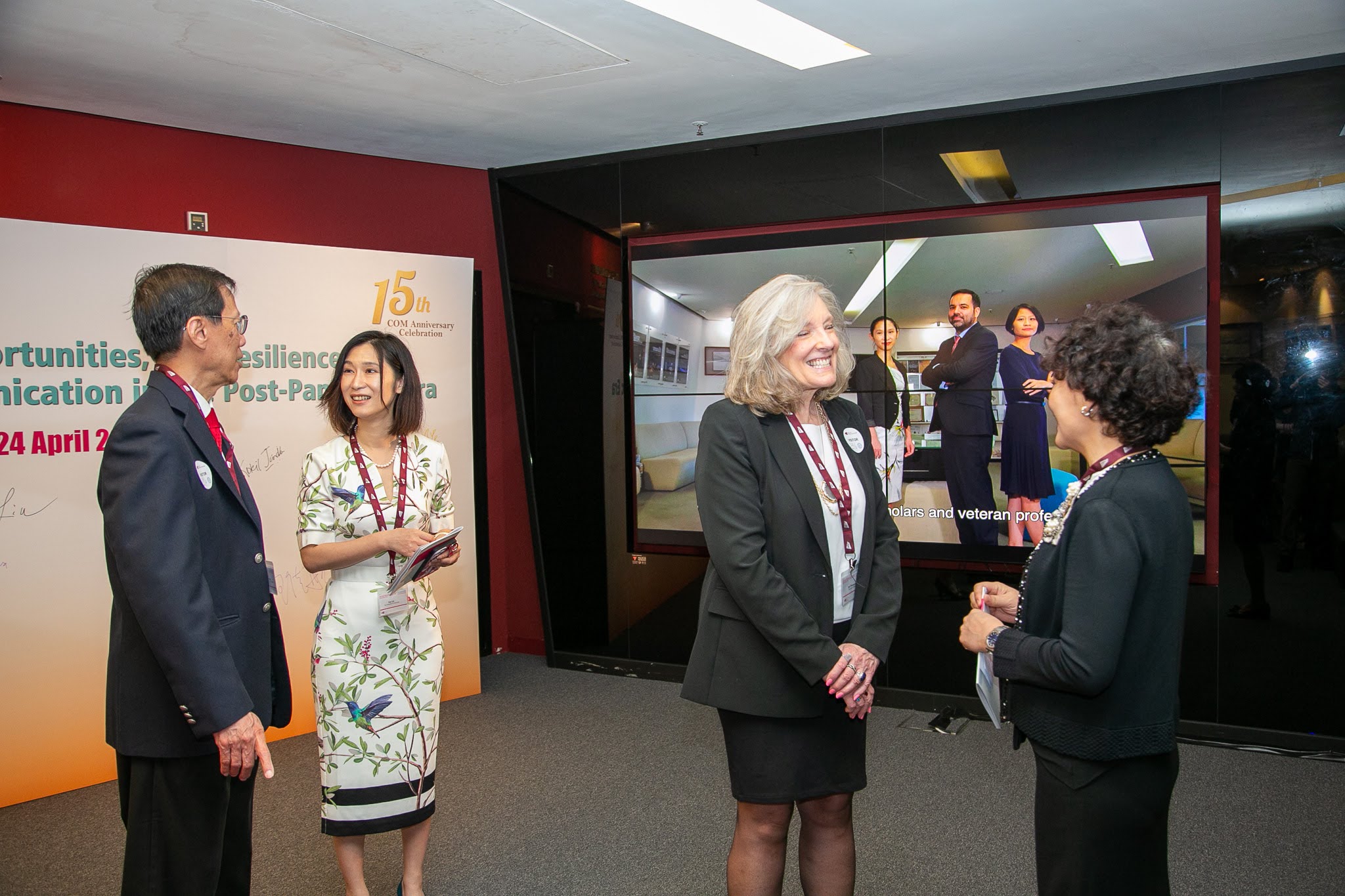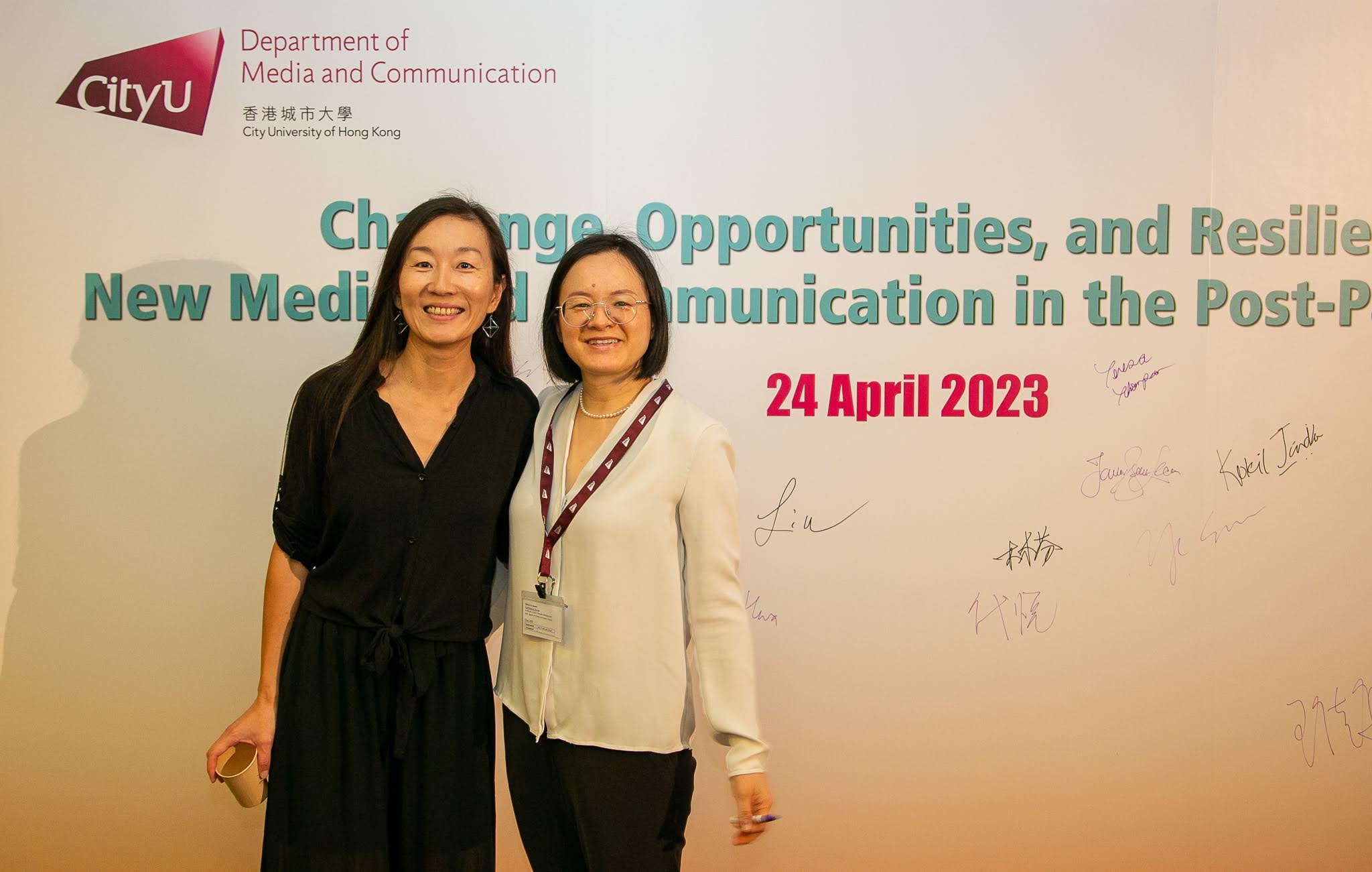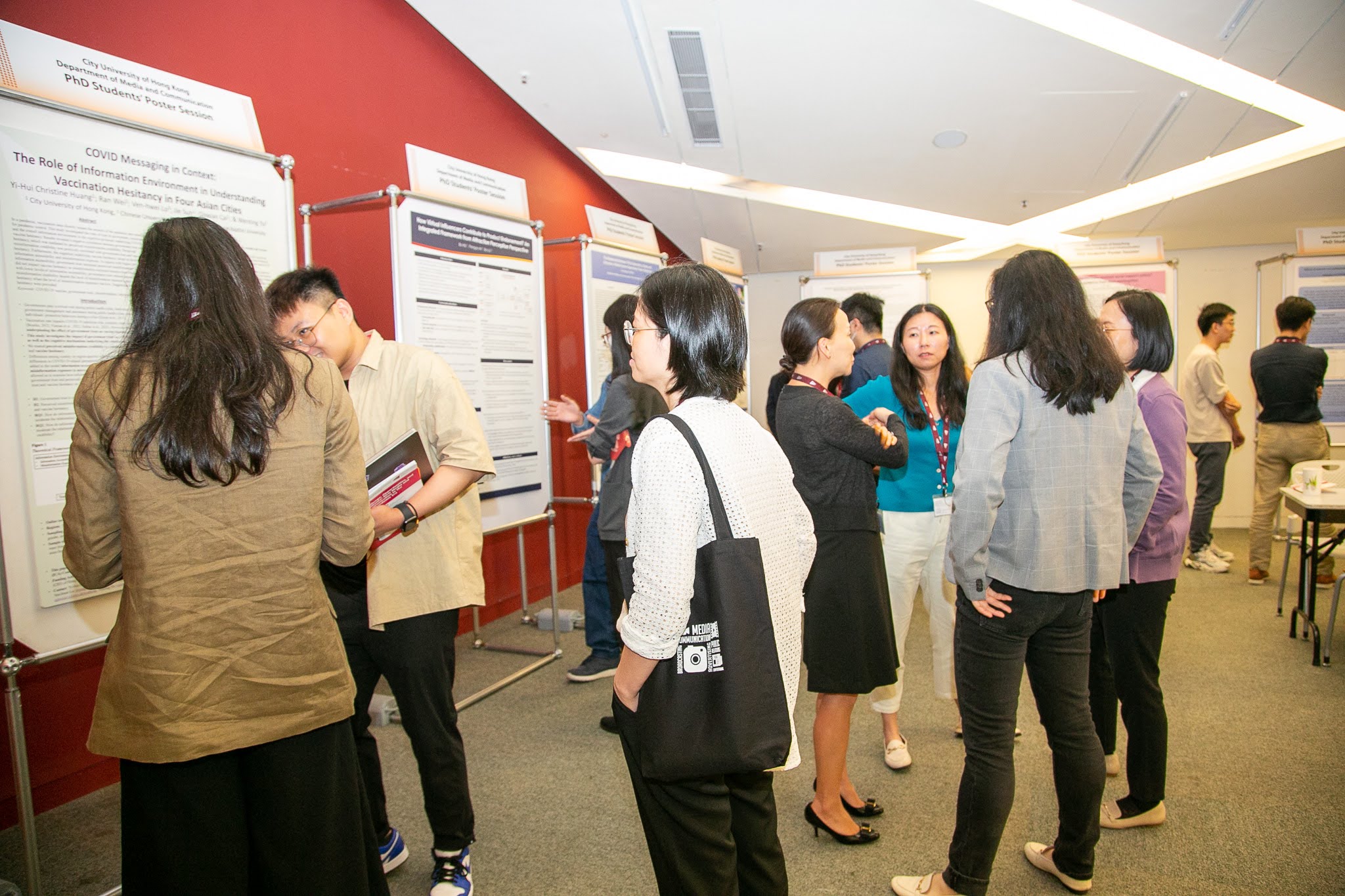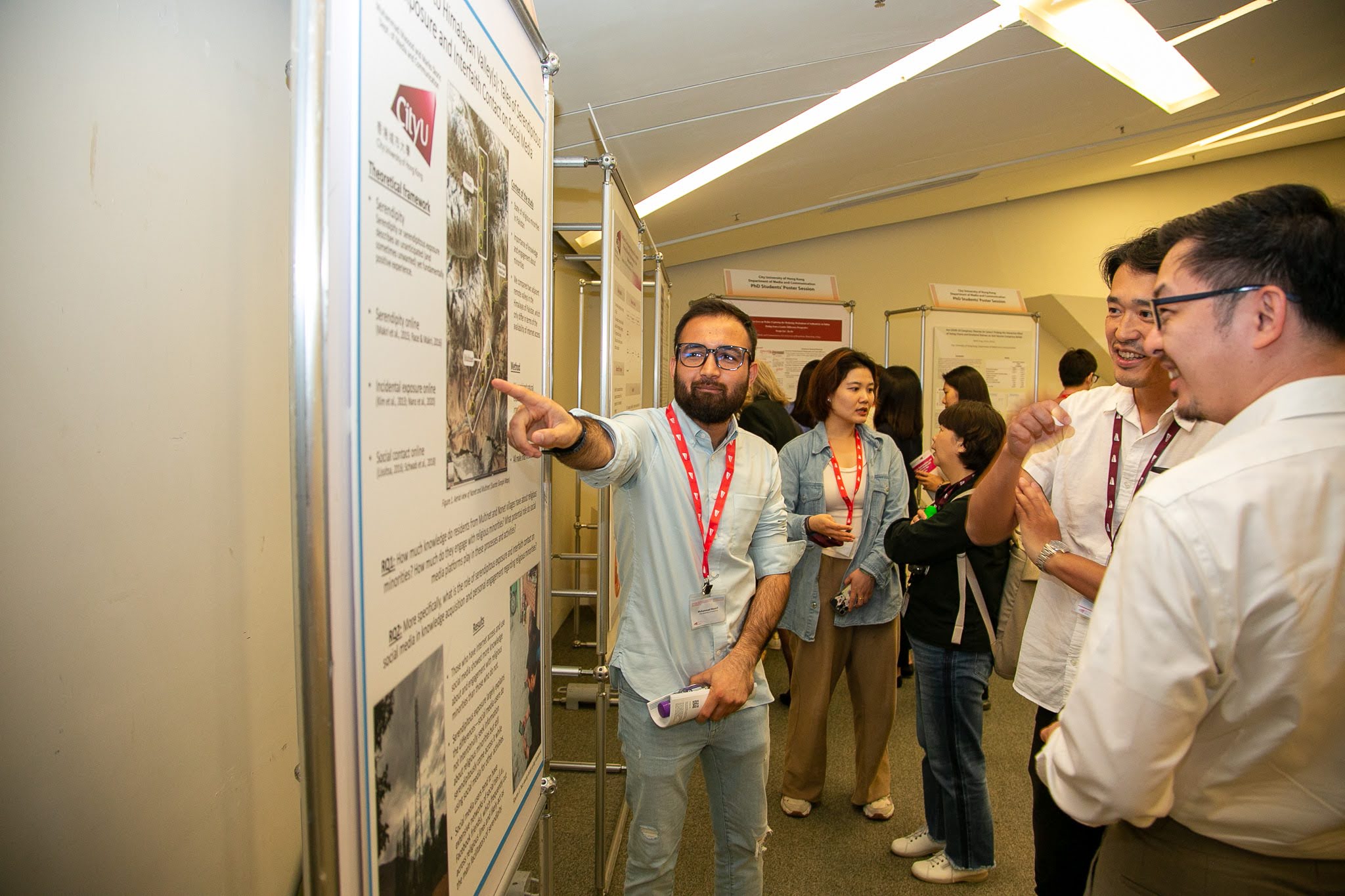 Photo album, please click HERE.