About Me
張瀚謙
Chris CHEUNG
2007 年成立創作團隊 XEX,2013 年成立新媒體藝術團隊XCEED,作品在世界各地巡迴展出。於 2014 年擔任首屆深港設計雙年展藝術顧問及策展人,2016 年獲邀成為設計營商周演講嘉賓。
Cheung founded the creative team, XEX, in 2007 and a new media creative team, XCEED, in 2013. Their works have been exhibited around the world. In 2014, Cheung was appointed artistic director and chief curator of the New Media and Tech Exhibition in the 1st HK-SZ Design Biennale. He was also a guest speaker at the Business of Design Week in 2016.
---
提名專家
Nominator
艾朗宏 Richard William ALLEN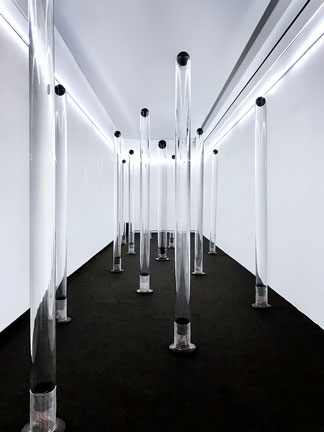 碳境
CarbonScape
2016
作品根據美國國家海洋暨大氣總署的數據,將大氣中二氧化碳的水平轉化為動態的音境機械表演。在2017 年,大氣中的二氧化碳濃度攀升至三百萬年來的最高位,其主因是工業化以及使用化石燃料。作品模仿發電廠以及工廠常見的煙囪,以黑色球體呈現二氧化碳水平。觀眾處於被煙囪佔領的環境時,作品思考當地球上生命的容量達至極限,人類可以擔任的角色。
CarbonScape is a visualisation of carbon dioxide (CO2) levels in the atmosphere, according to the NOAA (National Oceanic and Atmospheric Administration). In 2017, the concentration of CO2 soared to its highest in the past three million years, with industrialization and the use of fossil fuels two of the major factors. The installation is arranged as in a bamboo, forest-like landscape, where chimney-like tubes with changing ambience noises, imitates those frequently found on power plants and factories; the black spheres inside the tubes indicate the CO2 levels around the globe. Immersing the viewer in an environment taken over by chimneys, CarbonScape thinks about what our position as humans should be, while the earth's capacity for life reaches its limits.
Dynamicity 2017 - Scene IV: Collided Cityscape
2017
抽取自網絡和社交媒體上載主題標籤和地理標記的照片,以超現實的影像穿越多個時間點的地理空間,拼貼出不同回憶的城市景觀。 這個作品由香港特別行政區政府規劃署委約XCEED團隊創作,重構了香港自九七年建造的十大特色點。
As one looks back into the past 20 years, one sees that Hong Kong has gone through lots of ups and downs; we are proud to stand still under the Lion Rock and to hold tight the core values of the Hong Kong Spirit. DynamiCity 2017 examines the data of different cities, and presents four unique sceneries of transient vibes and shapes of vibrant city transformed into abstract imagery.
Based on hash-tagged and geo-tagged photos on the social media feed, the work recreates a collage of memories. The surrealistic imagery contains multi location-time-stamp and features 10 unique attractions of Hong Kong from after 1997.
輻射界‧現場
RadianceScape Live!
2018
《輻射界‧現場》是XCEED作品《輻射界 2016》的延申。透過從各個城巿收集而來的核輻射數據與受核輻射洩漏嚴重影響的切爾諾貝爾和福島作出比較,作品藉由視覺影像呈現無形的輻射線,並以此呈現由核輻射所生成的世界景觀,希望再度提高大眾對於核災的認知與關注度。
RadianceScape Live! is an audiovisual performance that visualizes live radiation data of different major cities (New York, Tokyo, Hong Kong, Berlin and Paris…) comparing them to that of Chernobyl and Fukushima. It is an extension of the RadianceScape 2016 installation, which featured the graphical score of the radiation data of Chernobyl and Fukushima in 2016--the year marking the 30th and the 5th anniversary of each nuclear disaster respectively.
---
群展+
Group Exhibitions+
作品《輻射界》入選奧地利林茨電子藝術節。
In 2017 RadianceScape Live! was shown at the Sonar Festival, Hong Kong, the WRO Media Art Biennale, Wrocław, Poland, and the European Media Art Festival, Osnabruch, Germany; VaporScape (h0nh1m x NikeLab) was shown at Art Central, Hong Kong.
In 2016 The RadianceScape project was selected for the Ars Electronica Festival in Linz, Austria, the Beijing Media Art Biennale, in Beijing, and the Microwave International New Media Arts Festival.
---
獲獎+
Award+
作品《子非魚》、《封筆》、《上大人》及《共振之靈》等,在德國紅點設計獎、紐約字體藝術指導俱樂部、深圳GDC11、日本字體設計協會、亞洲最具影響力設計大獎和紐約藝術指導暨11屆青年先鋒年賽展分別取得獎項。
2010 香港藝術發展局頒獎「新晉藝術家獎」
Cheung has received the Red Dot Design Award in Germany, New York Type Directors Club Award, Shenzhen Graphic Design in China 2011, Japanese Typography Association Award, DFA Design for Asia Award and ADC Young Guns 11 Exhibition Award for his works including The Happiness of Fish, No Longer Write, Shāng Dà Rên and Resonance Seed as well as the2010 Award for Young Artist, Hong Kong Art Development Council